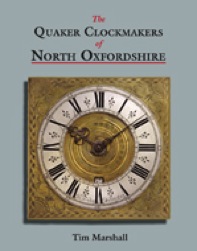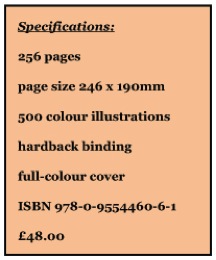 The Quaker Clockmakers of North Oxfordshire
The history of Quakerism in rural North Oxfordshire is almost as long as Quakerism itself, arriving in 'puritan' Banbury during the 1650s, and then establishing itself in the surrounding area during the latter part of the seventeenth century. The same could almost be said about domestic clockmaking, but it was not until the 1689 Act of Toleration that the two converged, with the emergence of a group of Quaker blacksmith/ clockmakers, in the form of the Gilkes and Fardon families — who, along with their descendants, relatives and apprentices, went on to dominate the craft throughout the eighteenth century.

During this time they produced one of the most iconic styles of English country clockmaking, instantly recognisable to clock collectors — the iron-posted hoop and spike clock with distinctive ring and zigzag engraved dials.
This book discusses this clockmaking tradition in the context of the Quaker way of life, centred upon their core principles of simplicity and truth, within an organisational network embracing the Quaker ideals of education, apprenticeship and travel. This radiated out from the London Yearly Meeting to the local Preparative Meetings, where each of the Quaker clockmakers featured in this book played their part. Their lives were inextricably linked to the local Quaker Meeting and faithfully recorded in its Minute Books for posterity.
By these means the Quaker clockmakers (and Quakers in general) attained economic power within the wider population far beyond their numbers, which lasted throughout the period of English country clockmaking.
This book, the result of many years of research, has over 500 colour illustrations to bring the story of the North Oxfordshire Quaker clockmakers alive. It will appeal to clock collectors, horologists, Quakers, local historians and social historians alike
Contents

The Quaker Background

The Local Background

Clockmakers & Meeting Houses

The Quaker Clockmakers

The Nprth Oxfordshire Hoop & Spike Clock

Unsigned Hoop & Spike Clocks

Some Associated Quaker Clockmakers

Recently Discovered North Oxfordshire Quaker Clocks

Local Time

Clockmakers & Watchmakers working in Wales

List of the Quaker Clockmakers of North Oxfordshire

Index
The author

Tim Marshall, a former engineering consultant, has been dealing in antique country furniture and clocks for the last twenty-five years, now specialising in North Oxfordshire hoop and spike clocks and early country work. He lives with his wife Kay at their cottage in the same North Buckinghamshire village where he was born and his family have lived since the nineteenth century. A lifelong conservationist and supporter of traditional country sports and pastimes, nowadays he is content to live a quiet country life in the gentle pursuit of antique clocks.