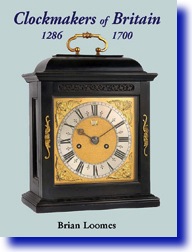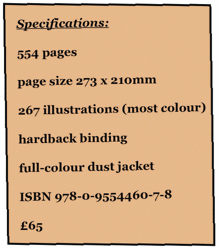 Scotland spec
Clockmakers of Britain 1286-1700

by Brian Loomes
Clockmakers of Britain 1286-1700
is a an important new biographical reference source detailing all that is known about every recorded British maker of clocks and watches, who was born before 1700. This book includes 6,230 makers, who between them had several thousand apprentices or journeymen, who (where known) are also listed. For the vast majority of clockmakers and watchmakers this information is presented here for the first time. References are given to detailed articles about particular clockmakers.

For most makers for whom work is known to the author, the type of clock or watch is specified along with known variants of the way he signed his name and location. For some of these clockmakers and watchmakers no item of work has yet been documented, in some cases because he worked under a master as a journeyman.
As well as details of clockmakers, watchmakers and others working in the horological trades whose work survives, this book also includes all those known only though documentary sources. The biographical facts about each maker are mostly from research undertaken by the author over a period of almost half a century, supplemented by details from quoted publications on regional clockmakers.

This book includes 267 illustrations and will be of great value to all those interested in the earliest period of British clockmaking. It is an essential reference work for collectors, dealers, museums and libraries.
The Author
Brian Loomes is today's best-known and most widely-published author in the field of antique clocks. As well as having written many dozens of articles on clocks over more than forty years for magazines of antiquarian interest worldwide, he has written over twenty-five books on antique clocks, some of which have become standard texts on their subjects and are used today by collectors, dealers, museums and libraries throughout the world.

As a former professional genealogist and a Fellow of the Society of Genealogists his knowledge of source material has revealed many previously-unknown facts about clockmakers and their work. In 2008 he was made an Honorary Fellow of the British Horological Institute in recognition of his contribution to historical research into clocks and clockmakers.
He is also the author of
Clockmakers of Northern England
and
Lantern Clocks & Their Makers
.