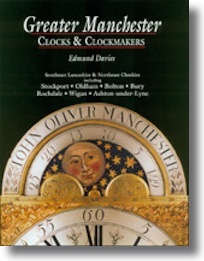 GREATER MANCHESTER
Clocks & Clockmakers
by Edmund Davies
This book is a detailed study of clockmaking and watchmaking, and the craftsmen and women who worked in the trade in Greater Manchester, which includes the towns of Salford, Stockport, Oldham, Bolton, Bury, Rochdale and Wigan.
Until the rise of the textile industry in the sixteenth and seventeenth centuries brought increased prosperity, there was little horological activity in the area. By the start of the Industrial Revolution, led by Lancashire's booming cotton industry, in the middle of the eighteenth century, accurate timekeeping became a necessity and numerous highly skilled clockmakers and watchmakers set up in business in Manchester and its neighbouring towns.
Introductory chapters discuss turret clocks on churches and public buildings, watchmaking, lantern clocks, as well as a detailed discussi on of the characteristics of longcase clocks made in Southeast Lancashire and Northeast Cheshire. Public clocks in the city of Manchester and the lives of some notable clockmakers are considered, while there are details of over 3,700 clockmakers and watchmakers from the earliest records to the end of the nineteenth century.
Appendices include a list of craftsmen listed by town, while extracts from inventories give information on the ownership of clocks and watches in the seventeenth century. Other appendices include the significance of the Townley Group of early scientists, the scientific shows and lectures that took place in Manchester in the eighteenth century, details of many of the region's public clocks, and the special timekeepers that were developed for use in cotton mills.
With almost 270 illustrations, this book is an essential reference for horologists and local historians alike.


CONTENTS
Turret Clocks & Their Makers

Watchmaking

Lantern Clocks

Longcase Clocks

Public Clocks in the City of Manchester

Notable Clockmakers

Clockmakers & Watchmakers of Greater Manchester

Clockmakers & Watchmakers Listed by Town

Clocks & Watches in Early Inventories

The Towneley Group

Scientific Lectures & Shows

Public Clocks

Clocks & The Cotton Industry

Glossary

Bibliography

Index

The Author:

Edmund Davies was born and grew up in Manchester, entered the teaching profession, and became Head of a school for children with special needs. He bought his first longcase clock in 1960, when he needed to furnish a country cottage. Thus began an interest in all branches of horology. With his son, he eventually took over his wife's antiques business in Whalley, Lancashire, and now specialises there in clocks and watches, especially those made in Greater Manchester. His researches into the clocks of this area and their makers began over twenty years ago, during which time he has contributed articles to
Antiquarian Horology
and
Clocks
magazine. The full results of his findings are now presented in this book.