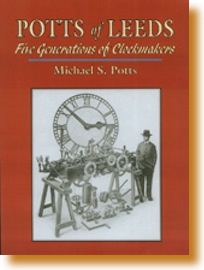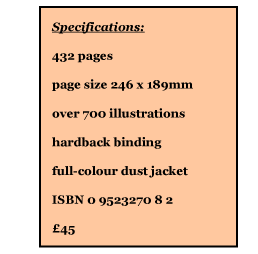 POTTS of LEEDS
Five Generations of Clockmakers

by Michael S. Potts

The Potts family originated in the Northeast of England, with Robert Potts working in Darlington and later at Keighley in Yorkshire. William Potts was apprenticed in Darlington, but moved to Pudsey and then to Leeds in 1862. Together with three sons he established a business making turret clocks and dial clocks which can still be found in public buildings and churches throughout the British Isles and overseas. Clocks were supplied to churches, town halls, schools, libraries and railway companies from the Channel Islands to Shetland, including every English county and especially in the north of England. Clocks were exported to countries comprising the former British Empire, Argentina and Russia. William Potts & Sons became one of the most important makers of turret clocks in Britain, making the largest mechanical clock outside London, and was the last firm of clockmakers to receive the Royal Warrant from Queen Victoria. The author traces the clockmaking activities of five consecutive generations of his family from 1790 to 1958, including the development of the business and, in particular, the turret clocks which have survived to the present day. The book contains a wealth of information about the larger clocks made by William Potts & Sons as well as by Charles Potts & Company. There is a directory of over 1,600 public clocks by Potts showing when and where they were installed as well as a brief specification. This book includes over 700 illustrations, many of them contempory photographs of Potts clocks in their hey-day. The firm's catalogues have been reproduced to indicate the wide range of domestic clocks they manufactured and sold through the retail shop in Leeds. There is also a guide to the different types of dials and hands used by Potts on their turret clocks. The book is a comprehensive study of hitherto unpublished material relating to the clocks made by the Potts family.

CONTENTS
Preface

Potts of Leeds - Summary of Key Events

The Years Before Pudsey 1776-1833

The Pudsey Era

Victorian Leeds

The Corporate Years

Potts Clocks Exported Overseas

Charles H. Potts & Co

Potts Clock & Watch Miscellany

Potts Catalogues

Register of Potts Public Clocks

The Notebooks of William Potts 1856-81

Potts Agreements

Bibliography

Index
The Author:

Michael Potts was born in Sheffield in 1938 and educated at Hilton College in South Africa and at Repton. He qualified as a Chartered Accountant in London in 1963 and, after two years in Dublin, settled on the Wirral in 1970. His professional career spanned the North of England and, after discovering the existence of the former family business in Leeds, he set about discovering the origins of his clockmaking roots. For over twenty years he has been compiling a history of five generations of his family who were involved in clockmaking, and has travelled the length and breadth of Britain and to many countries overseas searching for surviving Potts clocks. He retired from professional practice in 1992. He is currently Pro-Chancellor of The University of Liverpool and became a Deputy Lieutenant of the County of Merseyside in 2000
. He
was appointed High Sheriff of Merseyside in 2006/7 and received an Honorary Degree of Doctor of Laws from The University of Liverpool in 2007
.