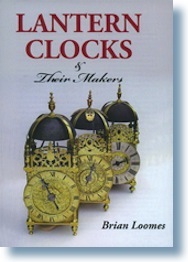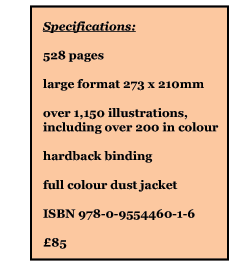 LANTERN CLOCKS
& Their Makers

by Brian Loomes
Lantern Clocks & Their Makers
is a detailed survey in twenty-eight chapters of the development of the lantern clock in Britain from its origins in the late sixteenth century, until its demise in the late eighteenth century and includes some unique and previously unrecorded examples from the very earliest period. Also discussed is the type of lantern clock which was used for posted-movement longcase clocks as well as for hook-and-spike hanging wall clocks. Square and arched dial examples are examined as well as clocks made for export to the Middle East, usually known as Turkish Market clocks. One chapter deals particularly with those rare and unusual examples which were housed in standing wooden cases. Another chapter deals specifically with brassfounders' casting marks, and includes several newly-discovered ones, which are documented here for the first time.
This extensive book features approximately 400 clocks illustrated by over 1,150 photographs (more than 200 in colour). Most of them were taken specifically for this work and appear in print here for the first time, many with detailed dimensions. Both constructional and stylistic features are explained in a non-technical manner in the author's usual easy style in such a way that they can be readily identified and dated to their appropriate period. No prior knowledge is assumed, which makes the book as accessible to the beginner as to the experienced reader.
The biographical section contains all available details of every clockmaker (over one thousand of them) known to have included lantern clocks among his work. Much of this biographical information has been researched from original records specifically for this book, is published here for the first time, and is available nowhere else. This information on the makers will also be of great value to those interested in other types of work from this earliest period of British clockmaking, as many of them also made bracket clocks and longcase clocks as well as watches. The unique combination of these factors makes this book an essential reference work for collectors, dealers, museums, and
libraries.

Contents
Part 1 — Lantern Clocks Made Before The Civil War
Origins & Background of the English Lantern Clock
Engraved Dial Patterns —Starburst, Compass Rose, Egg-&-Dart
Other Identification Features of Early Lantern Clocks
Engraved Dial Patterns — Wreaths & Roundels
Engraved Dial Patterns — Angels & Devils
Engraved Dial Patterns — Ring of Roses
Engraved Dial Patterns — Other Styles


Part 2 — Lantern Clocks Made During The Civil War
Clocks Made During The Civil War, Interregnum & Commonwealth


Part 3 — Lantern Clocks Made After The Civil War
The Introduction of the Pendulum


Part 4 — Lantern Clocks in the Provinces
Salisbury & Bristol
Somerset
Cornwall, Devon & Dorset
Central Southern England — Gloucestershire, Wiltshire, Berkshire, Oxfordshire & Buckinghamshire
East Anglia — Essex, Middlesex, Hertfordshire, Suffolk, Norfolk & Cambridgeshire
South-East England — Surrey, Sussex & Kent
Central England — Warwickshire, Leicestershire, Northamptonshire, Worcestershire, Derbyshire, Nottinghamshire, Staffordshire, Shropshire & Herefordshire
Northwest England — Cumberland, Westmorland, Lancashire & Cheshire
Northeast England — Lincolnshire, Yorkshire, Northumberland & County Durham
Scotland, Wales & Ireland


Part 5 — Lantern Clock Variations
Unsigned Primitive Blacksmith-Made Clocks
Square & Arched Dial Lantern Clocks from London & Abroad
London Lantern Clocks for the Turkish Market
Lantern Clocks in Cases & Longcase Conversions


Part 6 — Other Aspects of Lantern Clocks
Lantern Clock Sizes
Casting Marks on Lantern Clocks
Mechanical Aspects of Lantern Clocks
by John Robey

Makers of Lantern Clocks
Makers of Lantern Clocks by County
Bibliography
Index


The Author:
Brian Loomes is today's best-known and most widely-published author on antique clocks. He has written many dozens of articles over more than forty years as well as numerous books on antique clocks and clockmakers, some of which have become standard texts on their subject.

As a former professional genealogist his familiarity with source material has enabled him to uncover previously unknown facts about clockmakers of the past and their work. In 2008 he was made an Honorary Fellow of the British Horological Institute in recognition of his contribution to historical research. Much of his writing is based on personal research into both clocks and clockmakers, combined with over forty years experience of selling antique clocks, including lantern clocks. He considers
Lantern Clocks & Their Makers
, his twenty-fifth book, to be his finest yet. He is also the author of
Clockmakers of Northern England
and
Clockmakers of Britain 1286-1700
.