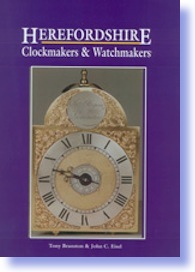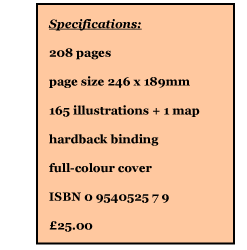 HEREFORDSHIRE
Clocksmakers & Watchmakers

by Tony Branson & John C. Eisel

This comprehensive reference book covers clockmakers and watchmakers in Herefordshire from the earliest times until the end of the nineteenth century. Despite the rural nature of the county, a surprising number plied their trade in the county, not only in Hereford and the surrounding market towns, but also in isolated rural communities.
The major part of the book is an alphabetical list of makers and their journeyman, including those Herefordshire apprentices who left the county to learn the trade elsewhere. Most of these apprentices stayed in the major centres, but a few did return to their native county. This list gives known working dates, taken from local records and newspapers as well as trade directories. It is comprehensively illustrated with 165 photographs of clocks as well as advertisements, and puts these local craftsmen in a wider context. There are also detailed descriptions of some notable clocks by local makers. To facilitate research, makers are cross-referenced under the place of work, and there is a comprehensive index. Because a number of local makers installed, maintained and repaired turret clocks, there is also a list of church clocks in the county.
Based on more than fifty years of research, this book comprehensively covers the horological history of the county, and will prove invaluable to those who wish to know more of Herefordshire clockmakers and watchmakers. It also will be useful to students of local history as it places these craftsmen in a wider context.


Contents

Clockmaking in Herefordshire
— Hereford
— The Gammon Family
— Kington
— Leominster
— Ross-on-Wye
— Ledbury
— Bromyard
— Thomas Hildeyard
Herefordshire Clockmakers & Watchmakers
Clockmakers & Watchmakers Listed by Town
Turret Clocks in Herefordshire
Bibliography
Index


The authors

Tony Branston had an interest in clocks, watches and barometers from an early age and this occupied much of his spare time. Clock repairing gave valuable insights into technicalities and also an opportunity to investigate clocks in detail. He was a member of the British Horological Institute, the Woolhope Club (a county-wide club that covers all aspects of Herefordshire history), and the Kington Historical Society. He died in 1999.

John Eisel lectured for many years in mathematics at the College of Technology. He is a prominent member of the Woolhope Club. He is also keenly interested in the history of church bells and bell ringing and is an acknowledged expert in the development of bell frames. He has been interested in clocks for some 40 years, and is interested in the clockmakers themselves as persons, as well as in technical matters.